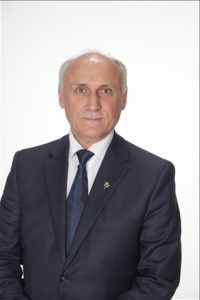 Gheorghe AVORNIC
Rector of the USPEE "Constantin Stere",
PhD, Professor
The present book aims to present succinctly and arguably, for its anniversary, the academic and research excellence of USPEE "C. Stere ". The 20th anniversary of our university is at the same time a reflection, evaluation and projection. Although we are a relatively young institution, at the full age, we have already succeeded in fully justifying our existence through academic stateliness, educational and institutional security. I admit that building a university is a difficult and hard process but feasible with joint efforts of the colleagues, collaborators, auxiliary and administrative staff, students and partners. In this sense, with a strong sense of reverence and gratitude, I address those who have contributed to the dignity and authority of our institution over these 20 years. We are the institution where the focus is on quality and performance. Designed as the structure of a European university, which develops according
to the economic and social needs and market demands (labor), we are a modern university that opens a wide range of prospective educational offerings both at national and international level, under the generous standard of the European Union.
We encourage free thinking, active civic engagement, creativity, enthusiasm and openness to communication and collaboration, so that our
students at the end of the studies have the intellectual gifts and the spiritual strength, necessary for the personal fulfillment and the progress of the community. According to Gustave Thibon: "the vigor of a tree is not given by the number and length of the branches, but by the depth and health of the roots"; the USPEE leadership "C. Stere"; wants to build up, consolidate the depth and ensure the health of the roots of higher education within the USPEE, as we believe that only in this way we can develop together a sustainable university, a successful university. Therefore, USPEE "C. Stere "continues the promotion of the educational policy and the development of a democratic, humanistic, flexible and transparent university education based on the values of culture and of national and universal science.