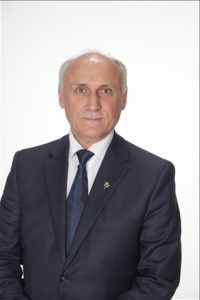 Gheorghe AVORNIC
President of the Senate USPEE "Constantin Stere",
PhD, Professor
Educaţia este cea mai puternică armă pe care omenirea o poate folosi pentru a schimba lumea, a spus Nelson Mandela. Astfel, în această lume a interdependenţelor, în care societatea devine tot mai dinamică şi mai complexă, învăţământul are un rol determinant, asigurând funcţionalitatea şi ascendenţa întregului sistem social.
Studiile universitare constituie o etapă semnificativă în viaţa fiecăruia dintre noi. Este perioada în care se formează personalităţi, în care se încheagă prietenii adevărate ce pot dura o viaţă. Este etapa în care se afirmă competenţele profesionale, ştiinţifice şi artistice. Este perioada în care tinerii valorifică noi concepţii şi dobândesc o nouă viziune asupra lumii şi asupra societăţii în care trăiesc.
Anii de studenție sunt cei mai frumoşi ani ai tinereţii – ani de muncă perseverentă, uneori chiar istovitoare, de acumulare a cunoştinţelor şi manoperelor practice. În acest răstimp, aici, la USPEE, mereu alături vă sunt și consacraţii profesori, care dau dovadă de profesionalism și atitudine, deținători ai celor mai înalte grade ştiinţifico-didactice, fideli frumoaselor tradiţii universitare, cei care se străduiesc să vă călăuzească în lumea complicată şi enigmatică a cunoştinţelor, să vă împărtăşească, cu multă dragoste şi mărinimie, din cunoştinţele teoretice şi bogata experienţă, dar și să asigure calitate procesului educativ, adaptat cerinţelor majore ale standardelor educaţionale europene şi mondiale.
Este important să menţionăm că USPEE este angajată plenar în pregătirea specialiştilor cu un înalt nivel de profesionalism, punându-se accentul pe o educaţie personalizată, adaptabilă şi generatoare de competențe. Dezvoltarea personală, multilaterală a absolvenţilor noştri este miza majoră a procesului de instruire în cadrul USPEE, care este modularizat, astfel încât să satisfacă cerinţele, tot mai complexe, de dezvoltare a personalităţii, de studiere şi evoluţie a carierei.
Nu vreau să par lipsit de modestie, dar afirm cu mândrie că Universitatea ,,Constantin Stere" se încadrează perfect în statut elitist, deoarece reprezintă o instituţie a seriozităţii, calităţii şi eficienţei. Aplicarea celor mai înalte standarde în programele noastre de studii, asigurarea calităţii procesului de instruire, calificarea profesională a absolvenţilor şi integrarea lor, în mod convenabil, pe piaţa muncii, inclusiv peste hotarele ţării, demonstrează că diplomele obţinute de absolvenţii USPEE nu reprezintă numai factori indicatori, ci adeveresc competenţe, nivelul de performanţă dictat de înalte ambiţii intelectuale.
Cred sincer în viitorul USPEE "C. Stere" – adevărata cetate a democrației academice, în care fiecare dintre noi contribuie la dezvoltarea și valorificare cunoașterii, la promovarea și prețuirea necondiționată a valorilor fundamentale ale neamului și ale lumii